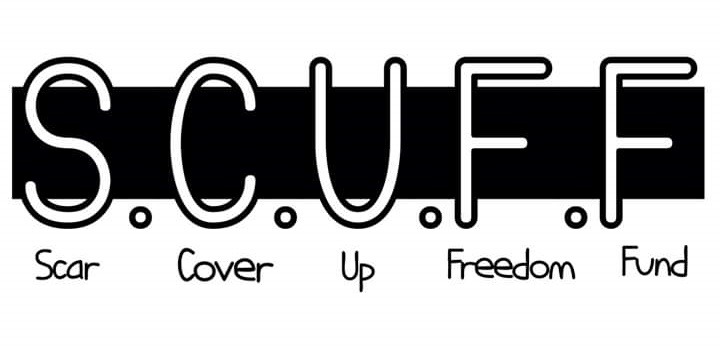 SCUFF provides funding for individuals with self harm scars, to help finance cover-up tattoos. We currently have a long waiting list and open up funding every few months. When funding is available, we contact those at the top of our waiting list, and ask them to complete an application form. Our board of trustees then meet to discuss which applicants to award funding to.
Applying for Funding
Please make sure you have read through our criteria and have answered yes to the 6 eligibility questions, then complete the form to have your details added to our waiting list. We can only provide funding to applicants who live in the UK and are over 18.
Eligibility (you must answer yes to all)
1. Are you going to be physically and mentally able to approach a tattoo studio and show them your scars?
2. Are you happy to return any required forms by the deadlines (normally a week-a month)?
3. Are you physically and mentally capable of having a tattoo and following all the appropriate aftercare?
4. Has it been over 3 months since you last self harmed?
5. Are all your scars fully healed?
6. We can only provide funding to individuals who have low income or are on benefits, and as such we may require proof of this. Any financial information you send us would be stored in a password protected folder only a couple of trustees have access to for the purpose of processing the application and then it will be deleted as soon as possible. Would you be willing to provide this information if required?
If you answer yes to all of these questions, please fill in the blue form!
If you are self-funding and looking for a tattooist to cover your scars, we can help. Please email fundingapplications@scuff.org.uk and our team will help you find a local tattooist skilled in scar cover ups.
We will soon have an online list of all the tattooists that cover scars across the UK